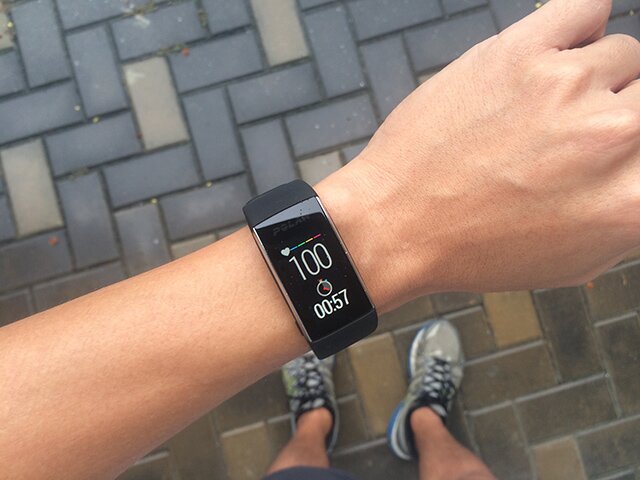 Polar A360 is the first optical heart rate sensor ever from the Finnish based company. Amidst the grueling fight for consumer's hearts, pun intended, Polar has finally entered the ring with the Polar A360. Targeted at gym goers, the GPS-less activity tracker has Polar's in-house algorithm for heart rate measurements. I gave this debutante a few days and here's what I have to say.
IN SHORT:
Pros
24/7 activity tracker. Tracks steps, distance, calories and sleep
Optical heart rate sensors
Smart notifications (Android availability in end Nov 2015)
Vibration enabled for alarms, idle alerts and notifications
Crisp and touch enabled display; visible under bright daylight
Multiple sports profile
2 week long battery life with 1 hour of tracked training daily (smart notifications off)
Waterproof to 30m
Exchangeable wrist straps (Available from 2016)
Reads heart rate from Polar H7 Bluetooth Smart HRM
Compatible with Polar Club
Charges from a standard micro USB cable
Smart calories, calculates calories based on individual data
Cons
High price for limited features
Truncated smart notifications
Does not measure 24/7 heart rate
Unable to indicate estimated distance with in built accelerometer during activity tracking sessions
No GPS
No autosync
LOOK AND FEEL
When it comes to optical heart rate sensors, the less ambient light, the more accurate the readings; this is with the assumption that the manufacturers have got their algorithm right. Garmin has come out with their own "light seal" and most other companies tend to advise consumers to tighten up which may cause discomfort. Polar A360 may look nothing out of the ordinary but put it on and it fits like a glove on the wrist. Clearly thought has been put into hardware design.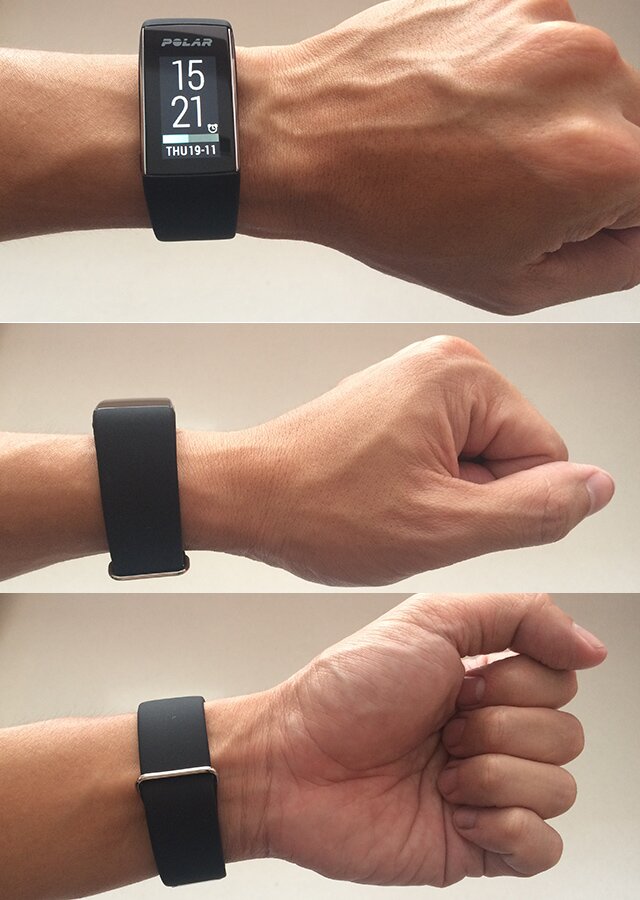 I love the wide-viewing angle full color TFT display with capacitive touchscreen. Visibility under low light conditions pose no problems to the Polar A360 and it also performs adequately under bright day light.

The tracker unit is removable and the changeable straps will be available from 2016 onwards. The band wears like a watch strap and feels comfortable. There's only 1 button on the entire tracker since the display is touch enabled. You'll see Polar's proprietary optical heart rate module at the back.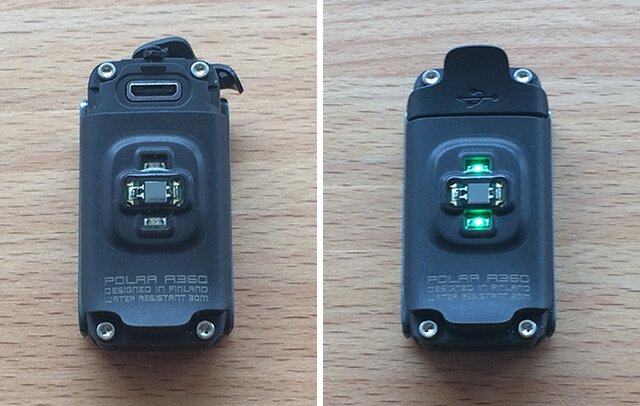 The charging port is at the back of the Polar A360 tracker unit. Any standard micro USB cables will fit the charging port which I think is great. An end cap covers the charging port when not in use and Polar has advised users to ensure the port is dry and clean before plugging in to charge.
FUNCTIONS AND DATA PRESENTATION
Heart rate measurement

I compared the heart rate measurements from the Polar A360 against that from a Polar H7 Bluetooth Smart chest worn heart rate monitor transmitting HR readings to Polar Beat mobile app. The results are shown above. If you examine closely, you'll notice that the Polar A360 HR graph appears smoother and displayed more dips compared to that of the Polar H7 heart rate monitor.

Compared to the chest strap heart rate monitors, it's still not quite there yet but for me personally, I can accept the minor lack of accuracy given the convenience of a nearly all-in-one device. The HR is read once every second in exercise tracking mode. This is based on what I can tell from the exported CSV file from Polar Flow. As a potential user yourself, the question is not whether the A360 is accurate but whether you can live with the current level of accuracy.
Training modes and stat display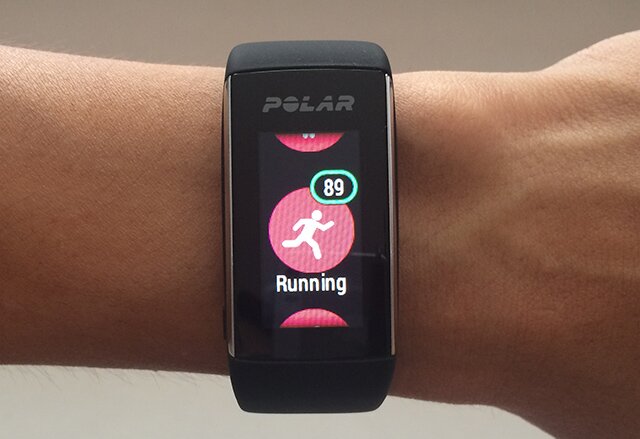 You can set multiple sports profiles and commence tracking using those profiles. For example, you can have indoor run, treadmill run, floorball and many more. What this does is it allows the correct activity to be recorded like a diary within the Polar Flow mobile app and subsequently the web dashboard.
Polar has customised a whole slew of stat screens which the you can refer to during training. Given the limited display estate, Polar has restricted the displayed stats during training mode to 2 stats per screen. Here are some screen shots of the stats combination display during activity tracking.

Calories burned and heart rate zone graph
Time lapsed and current time
Heart rate zone graph and current heart rate
Current time and calories burned
Current heart rate and time lapsed
The display dims after a short while and subsequently goes off; most probably a battery saving measure. To have the screen come on again, just tilt the Polar A360 as if you're looking at a watch and it'll come on again. Alternatively, just press the button.
According to a reader by the name of John, you can keep the display lit in training mode. Hold your finger on the display while in training mode, a light bulb pic will then come on and then just tap again and it will stay lit so you can read it while working out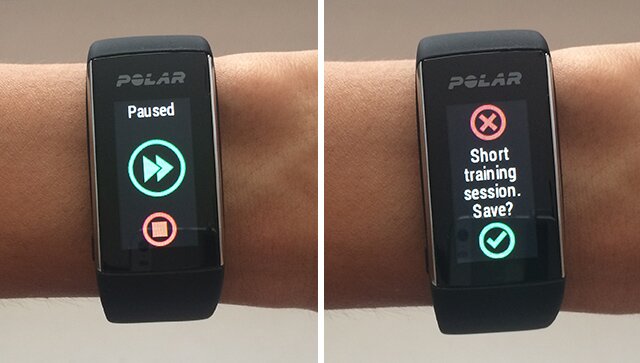 To cease training mode, you'll have to either long press (3 secs) on the single side button or long tap (3 secs) on the "Stop" icon to cease training.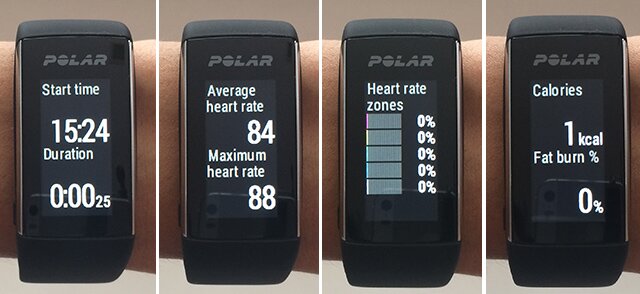 Once training has ceased, you can immediately access the training summary on the Polar A360 itself or within the Polar Flow app after syncing. The training summary on the Polar A360 itself is pretty straight forward and should provide the essentials if you need to know how the training went.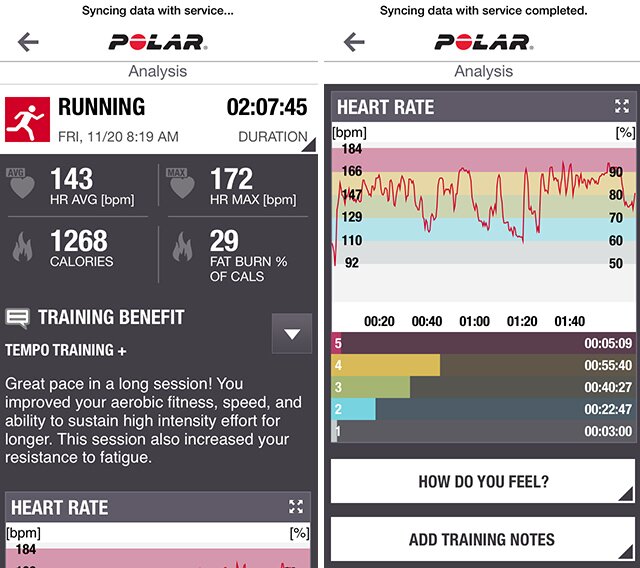 The tracked stats can be accessed from the Polar Flow mobile app after syncing is completed. I found it baffling why Polar wasn't able to use the in built accelerometer to enable distance estimation during a tracked session of run with the A360. Instead the tracked distance and steps are lumped together with the overall distance and step count for the day.
Smart notifications and vibration

The inbuilt vibration motor alerts the user of incoming calls, messages, app notifications and calender events. The communication is one way so with the exception of picking up calls from the wrist band, you can't actually reply or initiate any other commands.

What I particularly found lacking was the inability to expand the messages. This pretty much left me with no choice but to whip out the smart phone to read the remaining content of the message. If you refer to the screen grab above, this is the actual message.
"Hello Polar A360. This is an example of the truncated message." I had my contact smudged out intentionally.
The vibration is used as a wake up alarm and also remind the user to get up and move after being idle for too long. Morning alarms and idle alerts can only be set from the Polar Flow mobile app. Thereafter it must be synced to the Polar A360.
24/7 activity tracking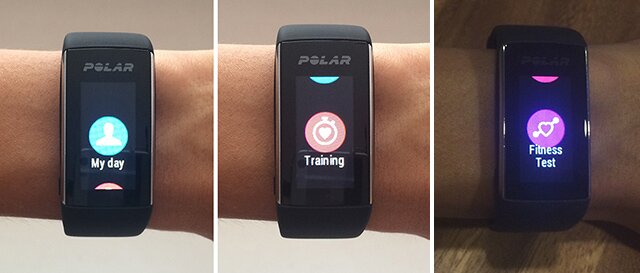 The Polar A360 is a capable all day activity tracker if you don't need GPS functions. It tracks steps, distance, calories, heart rate and even the number of idle alerts that you managed to chalk up throughout the day. From the main screen you can see the time, "My day", "Training" and "Fitness Test" which I'll talk about later.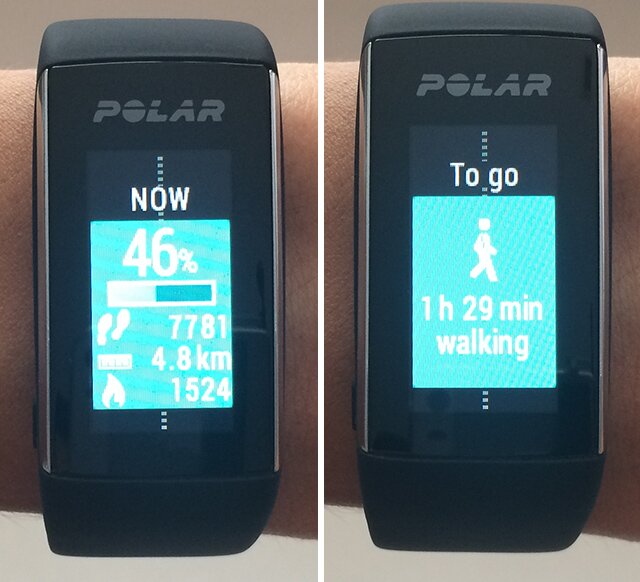 Tapping on "My Day" brings up the current activity level up to that point in time. The Polar A360 is able to provide advice on what else needs to be done to reach 100% for the day.

As seen above, you could stand up for 4 hours and 59 minutes, or jog for 39 minutes to reach your set goal for the day.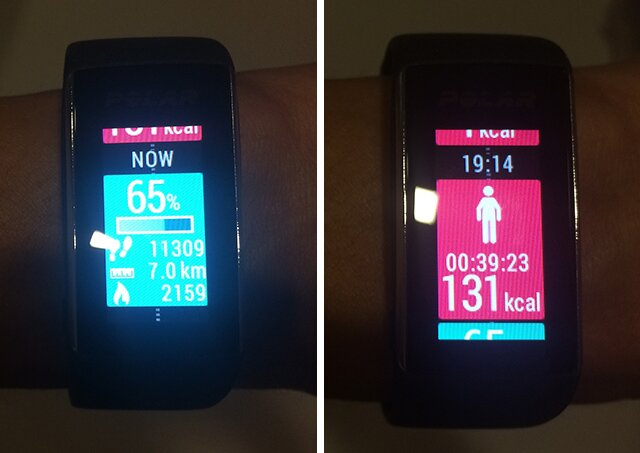 If there are tracked activity sessions, you'll be able to view them by scrolling up or down in the form of a time line. If you've hit your target for the day, you'll also see a mini display show followed by multiple vibrations to reaffirm your efforts.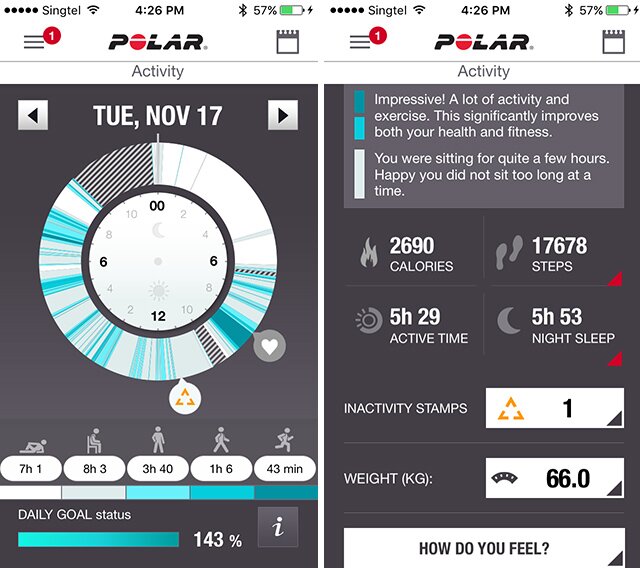 The tracked information is also presented in Polar Flow mobile app after syncing. Now because the Polar A360 does not feature autosync, you'll have to manually sync if you wish to view the latest tracked stats on the mobile app.
Polar Flow's user interface hasn't changed much in the last year and it's a breakaway from most other fitness tracker company's app interface. Not the best I've seen but it gets the message across.
Here's another screen grab of the Polar Flow mobile app detailing the summary workout for the week. There are no limited friends functions so you won't be seeing a step challenge with friends on the Polar Flow.
Compatible with Polar H7 Bluetooth Smart HRM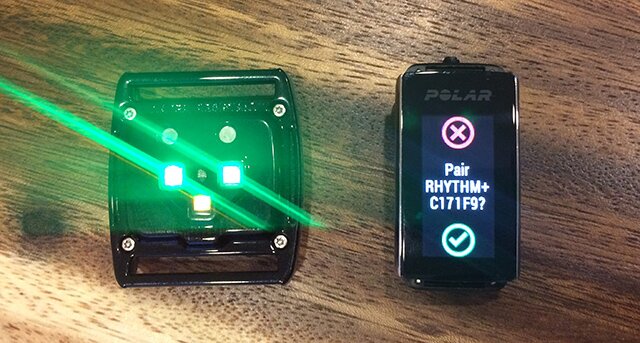 If you're picky about the accuracy of the heart rate measurements, fret not. The Polar A360 also allows the you to use it as a display while it collects heart rate mesurements from other heart rate monitoring devices. I was able to use a Polar H7 Bluetooth Smart chest worn heart rate monitor with ease. You'll have to wear your Polar H7 Bluetooth Smart HRM and commence activity tracking on your Polar A360. You'll be asked if you would like to pair with the HRM once it connects.
Just to take things further, I was also able to connect a Scosche Rhythm+ to feed the Polar A360 with readings easily.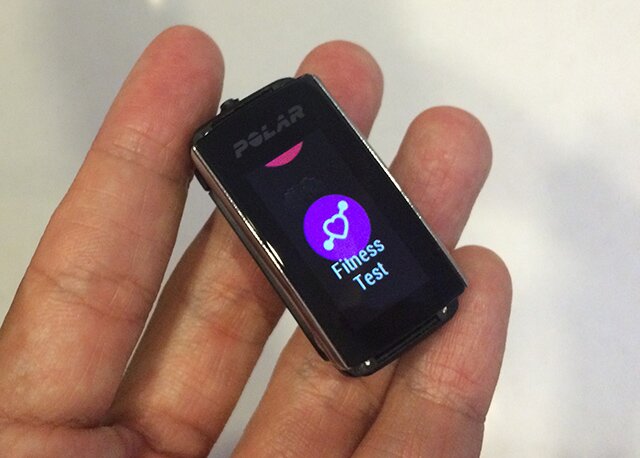 In using an external heart rate monitor, you will also activate the fitness test. You will need the Polar H7 Bluetooth Smart HRM in order for this function to work. Lie down for 5 minutes with the Polar H7 Bluetooth Smart trapped on and connected and you'll receive your aerobic fitness measurement based on Polar's OwnIndex.
Web Dashboard

Polar Flow also has an online web dashboard where you can explore your tracked stats in detail in an easier to view format. This is where you can plan your training, join interest groups and so much more.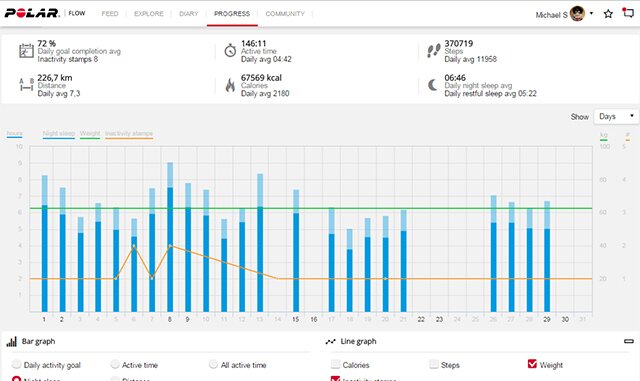 An update just a month back has added a new progress summary for users. You can choose which stats you would like plotted in the box and line graphs for ease of comparison over a month.

I particularly liked how the new progress summary gives you an overview of the month, how many inactivity alerts you received and the activity benefits.
ANYTHING ELSE?
The Polar A360 is waterproof to 30m. That being said, Polar has stressed that the charging port should be dry before being plugging it in for syncing or charging.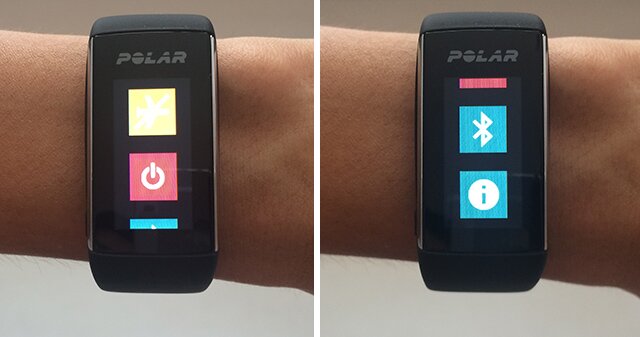 There's an airplane mode where Bluetooth connectivity and wireless syncing will be turned off. That means no more smart notifications and also conservation of battery.
Optical heart rate sensors can be tricky. It's a whole new can of worms testing heart rate accuracy during physical activities, sedentary activities and during rest. I was hoping the A360 would feature all day heart rate measurement; even if it's just intermittent readings during sleep. Perhaps what's holding Polar back is their pursuit for a high level of accuracy that corresponds to that from chest worn heart rate straps.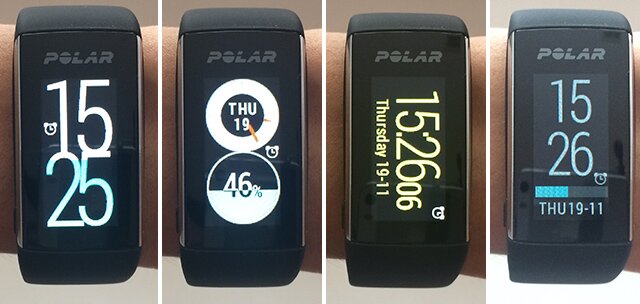 The home display screen is customisable and you can choose from 4 designs that are already in the Polar A360.
The other thing which I thought could improve is the truncated smart notifications. Take for example Whatsapp messages, even pseudo smart devices like the Vivoactive and Microsoft Band 2 expands to display the entire message. In the case of the Polar A360, you'll need to whip out your smart phones if you wish to see the entire message.
Battery life is advertised as 2 weeks with an hour of training per day, this is with the smart notifications switched off. I had the Polar A360 for about a week and I'd say it lasts about 5 full days with smart notifications switched on and an hour of training daily. Not bad at all.
One reader by the name of Mark listed his experience under the comments section which I thought might be useful for readers to take note. Unfortunately it's too far down the list of comments so I've obtained his permission to list it out verbatim. I think everyone's experience differs and it's always good to hear different perspectives.
"I bought an A360, tried it out for a few days, and returned it. I found that the heart rate monitor was not accurate enough for me. I'm use to the accuracy of my M400. It was off by about 10-20 beats. That's enough to put me in a different level. My level 3 goes from 91 to 103 based on a max of 130. If the watch is off by 10 to 15 beats, it's not very helpful. I contacted Polar and asked them how I could make it more accurate. They said use a strap. But that's why I bought this in the first place. I didn't want to use a strap. So I tried it with a strap and it worked fine. I decided if I was going to use a strap, I might as well stick with my m400. I also found there was no way to keep the display on all the time. It is very annoying having to flick one's arm every time you want to see the time. I found it didn't go on some time when I wanted it to, and it did go on some time when I didn't want it on. When it does go on, it's for only a few seconds. It doesn't give you enough time to examine your data. I did find the watch extremely comfortable. I was very disappointed though that it didn't work out."
Polar A360 IN A NUTSHELL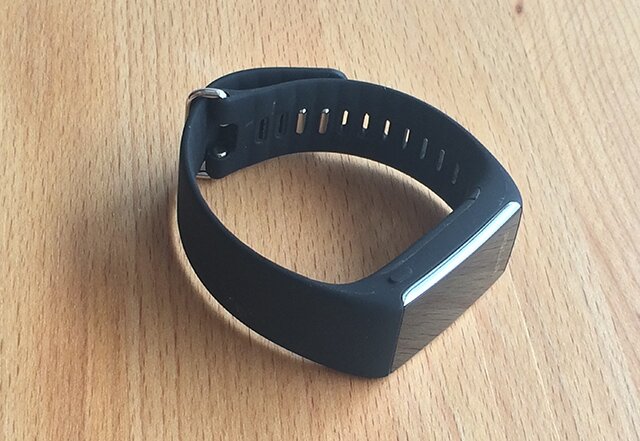 The Polar A360 is the amalgation of the Polar Loop 2 and Polar's proprietary optical heart rate sensors. I'll put my money on Polar delivering a GPS enabled wrist based heart rate activity tracker in the near future. Specifically, something with the likes of the value-for-money Polar M400.
Until then, I personally thought Polar met its primary objective of delivering an acceptably accurate optical heart rate activity tracker.
The Polar A360 is available in in black and white at the recommended retail price of $199.95 with more colour straps available in 2016 You can buy the Polar A360 from Amazon.com where there's usually a small discount and free delivery depending on where you reside. In return, you purchase helps to fund the running of this site. As always, thanks for reading!
You might be interested in: