From the makers of the Walkman, Trinitron televisions and Playstation comes the tiniest gadget Sony has made so far, the Sony Core SmartBand SWR10. The release of an activity tracker from Sony should surprise no one but marketing it as a life-logging device, that's unheard of. And coming from the company that's synonymous with high quality futuristic products and two previous smart watch releases, you'd expect nothing less than be blown away.
Let's get started.
LOOK AND FEEL
It's small. This tiny white package looks "powerful" with all the technology printed on one side and a "SONY" on the other. There's only one button on the side. with 3 accompanying LEDs. The LEDs is all there is to inform you whether the Sony Core is on Day or Night mode, which will impact notifications under "Settings".
Once you slot the Sony Core in the band, it's discreet; you can't tell that the Sony Core is being worn. You get 2 wrist ban sizes with multiple permutations of fit in between. The LEDs will glow through the rubber band as a form of notification. It's dim but trust me, it's hard to miss.
The clasp is pretty flat and I found that I could work without the band getting in the way. This is especially important if you're on the laptop or keyboard a lot.
I'm a fan of discreetness and even I found the Sony Core smart band a tad too inconspicuous for my liking. Sony has promised future releases of accessories to accompany the Sony Core and I'm really looking forward to the release of the accessories, especially the shoe clip.
Connection to the mobile device, the LG Nexus5 in this review, is via NFC.
ACCURACY
All the trackers are put through the same test to simulate the varying speeds in activities of daily living. I threw in a loaded step count for those times when I have to hand carry a laptop or a bag of groceries. And these are the results of the Sony Core unit I own.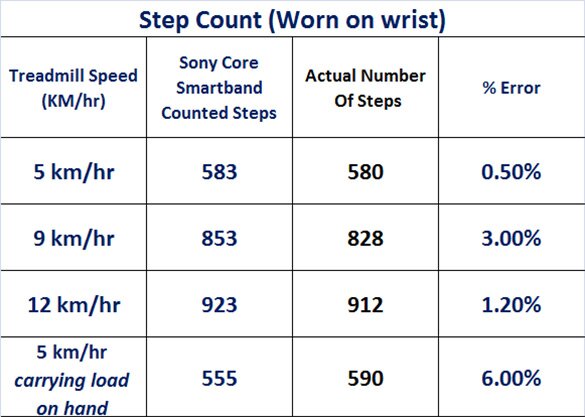 DATA PRESENTATION
You'll have to install 3 seperate mobile apps in order to get the Sony Core to start working. It's quite a bit of hassle I wasn't expecting but i managed to get  the Sony Core up and working.
The Lifelog app logs everything you do on your mobile device. Initially fearful at allowing full access to my mobile device, I took a leap of faith. And for the period I reviewed the device, I got to know my habits, time spent on the mobile device and a lot more than a regular fitness tracker could offer. On days when the Sony Core was flat on juice, the Lifelog app continued to record all activities taking place on my mobile device.
The Sony Core is responsible for the physical portion of life logging; think walks, runs and physical activity. The Lifelog app home screen is where all the information is presented. Every tile you add allows you to display more information. I reduced the number of stats tiles to only those I wish to see rather than the entire gamut which runs quite long. That being said, you do have a choice in deciding what to display.
Tapping on any of the tiles brings up a summary of tracked stats. In the screen grab above, I clicked on the camera icon to bring up the list of photos I took at that point of time. I can further click on the photos to open them in the mobile device. When the activity on the mobile device is time stamped, it somewhat makes searching easier.
A tap on the steps count tile brings up the daily, weekly, monthly and yearly screens, each offering slightly more information then the one before. You can also set the goal for step count, the standard being 7500 steps. I use a Nexus 5 which is one of the listed compatible phones. A Sony Xperia line of phone will provide more access to the app in terms of activity selection.
Sleep tracking is also enabled. You have the option of  auto sleep detection based on time or manually starting the sleep tracking. I opted for the latter. A long press of the only button on the Sony Core will start sleep tracking. The LEDs will blink a certain way to indicate the commencement of "Night" mode. In Night mode, the Sony Core goes silent and you won't get any notifications from your mobile device except for the pre-set morning alarm.
And that just about sums up the physical tracking aspect of the Sony Core. But that's all of not it. Not even close really. Sony Core is part of an ecosystem with the Lifelog app that tries to make sense of your life.
ANYTHING ELSE?
Lifelog app is the brain that's tracking everything you do on your mobile device from photo taking, to calls, to time on the internet and so on.
LIFE-LOGGING ON MOBILE DEVICE
It's information which I initially thought was frivolous but I'm surprised when Lifelog's tiles showed that I spend close to an hour texting on WhatsApp everyday. All the little text messages do add up! I also got to see my web surfing habits and I'm not proud of it. I struggled to find time to exercise but I spend close to 3 hours surfing on my mobile device daily. This is not inclusive of the amount of time I spend in front of the computer everyday. Can this change my life? Well it did get me thinking and thinking is always a good start.
BOOKMARKING
Bookmarking is the term coined by Sony to highlight or note a certain time in a day which you want to remember. For example you might be commuting and an interesting song you were listening to over the radio caught your interest. Rather than trying to search for the song, you'll double press the button on the Sony Core unit to bookmark the session. Upon getting back, you'll have bookmarks which you've made throughout the day and you can slowly take your time to recall what took place and work on it.
It's kind of like a note keeping function boosted with location, time and date, and what you were doing on your mobile device at that point of time. It does help recalling events easier. The screen grab above shows me walking near a reservoir park, and watching a video while texting a friend at the same time. The video description was added by me. The lifelog app is good, but not that good yet.
TACTILE NOTIFICATION
The Smart Connect app allows you to tweak certain function on your mobile phone. For example, one of the pre-set function is to have the mobile device set to silent mode when it's plugged in to a charger from a certain time onwards. Another one I like is to set the Sony Core to vibrate when I receive notifications or calls on my phone and it's worked great in this aspect.
There's potential and I can see where this can lead to. But with the numerous pre-set functions, it's highly likely I'll forget what's going to happen when I charge my phone or go to sleep at a certain time, all while waiting for an urgent phone call. I'll stick to manually switching off or putting the phone to silent. If there's a function that allows only certain important numbers to call through even when the phone is on silent, that's a function I would love to have.
REMOTE CONTROLLER
Sony being Sony is not satisfied rolling out the Lifelog app with the Sony Core; a powerful combination I might add. Since there's bluetooth, why not make it a remote controller as well? And that's what's been done, albeit poorly.
I've tried using the Sony Core to play, pause videos and the connection is erratic and it took a while to get used to. I figured I'd be better off just controlling from my mobile device. I can also remotely take photos, even scroll through presentations. The limited range of 10m coupled with the fact that tapping on the Sony Core is not exactly subtle in motion makes this function passable.
Weather
Scrolling the day back and forth allows you to see the weather forecast for the next day. This service is powered by Accuweather.
IN A NUTSHELL
Pros:
Water proof, went swimming with the Sony Core, no problem
2 bands for different sizes
Accurate in step count test
Calories
Distance
Walk and run duration
Sleep tracking
Life logging with Lifelog app
Bookmarking notable events in the day
Vibration alert for notifications from mobile device and alarm
Indication of exact battery life left on Sony Smart Connect app.
Cons:
No display, all data linked to mobile device.
Could have implemented idle alert
Lack of notices
Sleep tracking manually activated and ceased
No email summary
Can't add or choose activities that Sony Core tracks
Poor implemention of Sony Core as a remote controller
No iOS support
No adding of friends or social sharing element
Lack of hardware support in terms of more coloured bands and accessories
Sony Core coupled with the Lifelog app is a unique product system going beyond the standard step and activity tracking. Some might find the amount of information collected intrusive. Others might not know what to do with so much information.
There are areas which Sony can beef up quickly to entice consumers to buy into the Sony Core and Lifelog app system. For a start, keep things sociable and informative. Allow fellow Sony Core owners to add each other. Add a sharing element and make sense of the data. Let the consumer know where they stand among the other users. In this day and age of massive social sharing, I was shocked there's no sharing element in the Lifelog app.
Sony Core is a fine product that is still a diamond in the raw. If Sony can get its act together and devote more resources to beef up the software aspect, Sony Core may see more buying in. There's immense potential in Sony's tiniest gadget.
Listed price: $99.99
There's promise of more colours of the band and more accessories in the future. The collaboration with Roxy has born fruit in the form of a wristband.
You might be interested in: